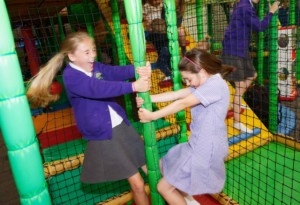 OVERVIEW
The standard opening times are outlined below however we do occasionally close to the public during private party hires. Updates on closures will up updated on our Facebook page the day prior to each private hire however if you travelling from afar, we suggest that you call to double check.
Entry price is based on 2 hour sessions, any climbing wall sessions will need to be taken within this time .
2 hour play rule will be strictly adhered too.
NO CLIMBING WALL BOOKINGS SHOULD BE MADE WITHOUT AN ADMISSION BOOKING!
COVID UPDATES AND SAFETY MEASURES
As a result of COVID we will be operating on a sessional basis only. Times will vary during term and holiday times. During weekends and holidays (our busy periods) bookings must be made using our online booking system which will help us support the management of customer numbers which has been reduced due to social distancing and capacity.
Between each session the centre will be sanitised and cleaned using an antibacterial mist spray dispensed from a spray machine.
Following regulations, social distancing of tables and walkways will be in place with a one way system for adults once inside the centre. Children under 11 will not be expected to socially distance.
Socially distancing stickers have been placed outside the building for entry queuing purposes.
As per norm, there is an entry and an exit door.
Signage will be placed on all tables ( Clean and ready to use / Please do not use)
PRICES
ADULTS
£0.50
UNDER 1
£1.00
1-2 Years
£4.50
2-5 Years
£5.50
6 – 11 Years
£6.00
Climbing session
£3.50**




** Introductory Price – 15 min session during a play visit.
Limited sessions available per each session so book early to avoid disappointment.
Entry price based on 2 hours of play. BOOKINGS ARE NON REFUNDABLE
Term

Time

Bookable

Evening sessions

Holiday

Hours

Bookable

Evening sessions

Monday
11am – 6pm
After 4pm
11am – 6pm
After 4pm
Tuesday
11am – 6pm
After 4pm
11am – 6pm
After 4pm
Wednesday
11am – 3.30pm
CLOSED
11am – 3.30pm
CLOSED
Thursday
11am – 6pm
After 4pm
11am – 6pm
After 4pm
Friday
11am – 6pm
After 4pm
11am – 6pm
After 4pm
Saturday
10am – 5pm
After 3pm
10am – 5pm
After 3pm
Sunday
10am – 5pm
After 3pm
10am – 5pm
After 3pm